Essay Of E B White Perennial Classics
Seller Image
About this Item: Harper & Row, Publishers, Estados Unidos, 1977. White, E.B. Essays of E.B. White. Estados Unidos, Harper & Row, Publishers. 1977. Características: Buen estado general pero con algunos detalles. Pasta dura en tela editorial. Letras doradas sobre lomo. Tapas ligeramente decoloradas en la parte superior. Tapas en algo manchadas. Guardas a color limpias con un pequeño texto escrito con marcador. Cantos limpios. Canto lateral ligeramente irregular. Canto superior ligeramente sucio. 277 p. (24 x 16 cm) Peso: 750 g. Libro. Seller Inventory # 6826
More information about this seller | Contact this seller5.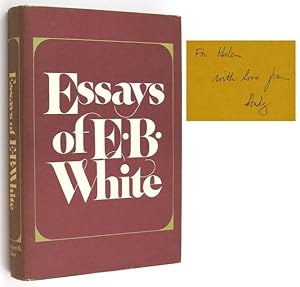 Seller Image
About this Item: Harper & Row, NY, 1977. Hardcover. Condition: Near Fine. Dust Jacket Condition: Very Good. First Edition. A collection of essays spanning his career, with a foreword written expressly for this volume. Inscribed by the author to a neighbor in Maine: "For ____/ with love from/ Andy." ("Andy" being White's nickname, from college.) Boards mildly splayed and light foxing to page edges; near fine in a very good dust jacket with an externally tape-repaired tear at the lower outer corner of the rear panel. Seller Inventory # 033201
More information about this seller | Contact this seller8.
E. B. White, the author of such beloved classics as Charlotte's Web, Stuart Little, and The Trumpet of the Swan, was born in Mount Vernon, New York. He graduated from Cornell University in 1921 and, five or six years later, joined the staff of The New Yorker magazine, then in its infancy. He died on October 1, 1985, and was survived by his son and three grandchildren.
Mr. White's essays have appeared in Harper's magazine, and some of his other books are: One Man's Meat, The Second Tree from the Corner, Letters of E. B. White, Essays of E. B. White, and Poems and Sketches of E. B. White. He won countless awards, including the 1971 National Medal for Literature and the Laura Ingalls Wilder Award, which commended him for making a "substantial and lasting contribution to literature for children."
During his lifetime, many young readers asked Mr. White if his stories were true. In a letter written to be sent to his fans, he answered, "No, they are imaginary tales . . . But real life is only one kind of life—there is also the life of the imagination."